Shop directly from your Instagram feed or Pinterest board? That will soon become a reality. The two social networks recently announced new advertising opportunities that will make it possible for users to purchase products directly from the apps, which will open up entirely new possibilities for online retailers worldwide.
Until now, only a selected range of partners have been able to advertise on the two social networks with simple image ads that focused mainly on branding and growing a community through likes and followers.
But the social platforms will soon be offering enhanced advertising opportunities that should prove especially interesting for online retailers. With tools like call-to-action buttons, targeted segmentation based on Facebook data and an in-app purchase flow, the new ad formats seem to be tailored for retailers to boost their online sales.
So what's new? On Instagram the new ads will get a call-to-action button with customizable messages, e.g. "shop now", "install now" or "sign up" depending on the goal of the particular campaign. Purchases can be made directly through the app via a mini-browser that pops up when the button is tapped. Users are therefore not re-directed to a external link, which has been common practice until now, but can purchase a product in Instagram's own app.
Pinterest are introducing the so-called "buyable pins" which, similar to the ads on Instagram, equip each post with a purchase button that will appear in feeds of the user target by the campaign. By clicking the button, users will be directed into a checkout flow and, as with Instagram, can be purchased without the user ever leaving the platform. Pinterest will work exclusively with Apple Pay, making the checkout process extremely simple without the need for users to reach for their credit card.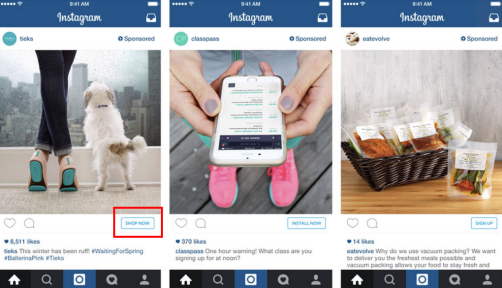 The new ad formats will without a doubt be interesting for online retailers because of the opportunities that they open up for. By adding a purchase button and smooth checkout flows, users are guided through a shorter and more direct purchase funnel, thereby making the ads more targeted towards ending in a sale. The ads virtually bring the potential customer much closer to the product shelf and that could turn out to be a real game-changer if users respond well to the new ads and online retails in turn manage to exploit the format by making the ads relevant for their target audience.
This ad format itself is also interesting because it is meant to both offer relevant content and to encourage action. It's like a hybrid of content and PPC, that creates value for the user and at the same time offers advertisers options to track and analyze data. By designing the ads this way, it seems that Instagram and Pinterest are going a different route than the traditional approach to clutter user feeds with ads. Instead, the ads are meant to become the content and thereby stand out as little as possible from the normal posts to avoid devaluing the user experience. And whether or not this it will work is crucial for the success of the new format.
The new call-to-action buttons and buyable Pins will initially be initially be launched in the US and are expected to be rolled out in other countries shortly after. It will be interesting to follow the first results to understand how consumers react to the formats.
What are your thoughts on the new social shopping features from Instagram and Pinterest? A game-changer for e-commerce or destined to fail?