How Med24 picked its North Star to outclass local competition
Written by: Max Riis Christensen
Entering a new market with a product that is not unique poses special challenges.

You need to not just match but significantly outperform rivals at every stage of the customer journey: from discovery all the way to delivery. That simply takes time and investment.

That's what Med24, the biggest, low-price online health store in the Nordic market is learning from its growth journey across the region.

Rather than rushing into 'bigger' markets like Germany, co-founder Nils Træholt believes they will drive more growth and profitability by cementing their position in the Nordics first and focusing on beating rivals at processes like delivery.

In the latest story in our series, Nils shares his learnings on market expansion tactics, localisation and technology across markets with our learning community.

"Becoming a real contender in a foreign market, that's the challenge. The competition is so fierce that you can't just come out with less," says Nils Træholt, Med24 co-founder.

Localisation: How Med24 is beating local rivals in Norway

In Med24's situation, selling products that you can buy elsewhere requires you to be sharp on price, trends, new products and delivery. The team has learned a lot about what to spend time on from its localisation journey in Norway.
Naturally, marketing is a key piece of the puzzle. While Nils says Google is relatively easy to localise, nailing local campaigns is more challenging.

The team spends a lot of time in Norway customising campaigns and looking for local products customers expect to buy to make sure they have them in their webshop. That investment is paying off.
"We can see that campaigns are becoming more and more important. If you have good campaigns, we can almost empty our inventory," says Nils.
Acquiring new customers is the first step, of course but, for Med24, being able to deliver fast each time is what keeps them coming back and delivery time is the team's biggest KPI today.
"That million budget you have for Google, you just can't make it work unless you get people to come back. In our case, if you perform well on delivery, people will come back. Delivery time is the key to all the other things," he says.
To ensure this, Med24 bought a local pharmacy and set up a warehouse in Norway last year. It means a big upfront investment but today they are already starting to reap the rewards.
Nils says having inventory in Norway to reduce delivery time simply generates more growth. Now the turnover is starting to take off because you get that local presence which is necessary for us to succeed.
Expansion tactics: How to pick your next market
A theme we keep returning to in this series is how companies choose which market to enter next and when the time is right. For some businesses patience can be more profitable than speed.
Med24 believes the Nordics can become a billion kroner market if they continue to invest in becoming truly local there. That is why they are focusing on cementing their position in Denmark, Sweden and Norway instead of rushing into bigger markets like Germany.
"There is enormous potential in the markets we work with. If we shift focus away from the markets we're in, you're just wasting too much. There are so many levers for us to pull," says Nils.
You might be selling a lot of a particular product in a new market but unless you have invested in being able to understand why, you won't be able to capitalise on it. It's all about understanding customers, data and the region.
"The challenge is how do you become local, because the competition is so fierce that you can't just come out with less. It's different if you have a unique product but if you are selling similar things it's all about understanding the trends."
His advice? Investing in becoming truly local takes time but for businesses like Med24 it will pay off in the long run.
"If you want great success, you have to go beyond your own borders. But you have to be aware of the challenges and willing to acknowledge that it probably affects other things, including profitability," he says.
Technology: ChatGPT + an optimisation mindset to scale customer service
Entering new markets means you need to be able to scale your customer service delivery without compromising on quality. The best companies are always thinking about how they can help their customer teams scale without losing the human touch customers value.
A topic we love to talk to ambitious growth companies about is how they are using new tools to improve the foundations of their customer service offerings as they grow into new markets.
For Med24, these ideas are coming from the top, with Nils telling us since teaching himself to code and experimenting with some new workflows he feels almost stressed by the possibilities for the business: "Only our imagination sets the limits now in terms of what we can optimise in the organisation."
For example, he wrote a script that uses ChatGPT to analyse customer emails and suggest actions that customer service teams can then simply approve, setting in motion a flow that will action the request and reply to the customer.
He says he anticipates that if they can automate 15 internal processes, 80% of all their inquiries can be automated, enabling customer service teams to spend their time smarter.
With competition only likely to become fiercer, he believes that building this optimisation-oriented and entrepreneurial mindset into all levels of the company will play a big role in its success abroad.
"If you're not forward-thinking enough, you simply won't produce enough forward-thinking work. We need to change our mindset," he says.
No shortcuts to localisation.
---
Each company's international growth story is unique but the conclusion often seems to be the same: true localisation is a process that simply takes time. For ambitious brands that are looking to take their next steps, patience, investment and an optimisation-oriented approach will set them up for success.

Thank you Nils Træholt for sharing some of your key learnings from Med24's story with us and welcome to the community.

This is the latest story in our series where 50+ top e-commerce professionals share their learnings on market expansion tactics, localisation and technology across markets with our learning community.
Check out the full collection for more tips.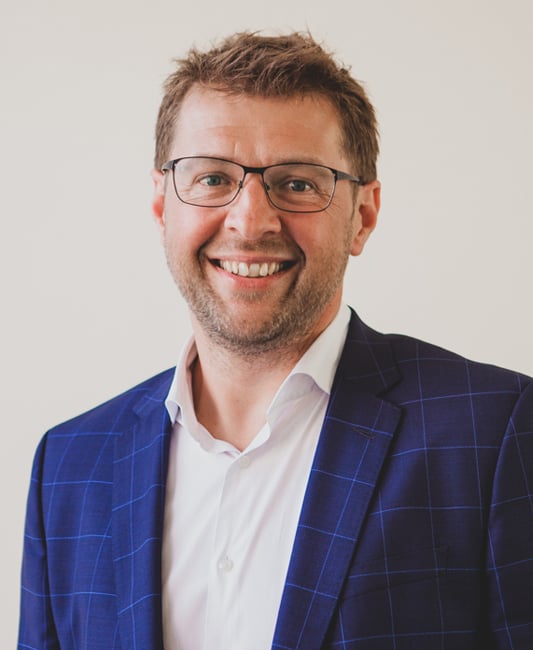 Max Riis Christensen
Max, the CEO at MakesYouLocal, specialises in cross-border e-commerce. His expertise encompasses building business cases, developing rollout strategies, and ensuring successful international launches. With a vast network and a track record with renowned companies, Max is instrumental in helping brands succeed abroad.