Choosing the countries and channels that are the best fit for your products, prices and selling points is a very important part of an e-commerce rollout.
Should you opt for marketplaces alone or is the right solution to localise your own webshop? Should you go for Norway, or might Germany be the right place for business?
To answer these questions, your thought process needs to go further than simply, "Well, 80 million people live in Germany and they all love Amazon — Amazon.de it is!".
Our recommendation is to focus on one or two countries and then carry out a Market scan. This will tell you who the main online competitors are and benchmark them with regards to over 15 different business areas such as delivery terms, social media presence, product range etc. Looking through our report will then give you a clear understanding of the competitive situation and the competitors you need to win customers from.
This knowledge leads on to the next phase: A Roadmap will show you all the tasks to be carried out from where you are today to when the sales channel is launched. How much investment will be required and do you have the resources available?
This research is required for the Decide phase shown in the model below.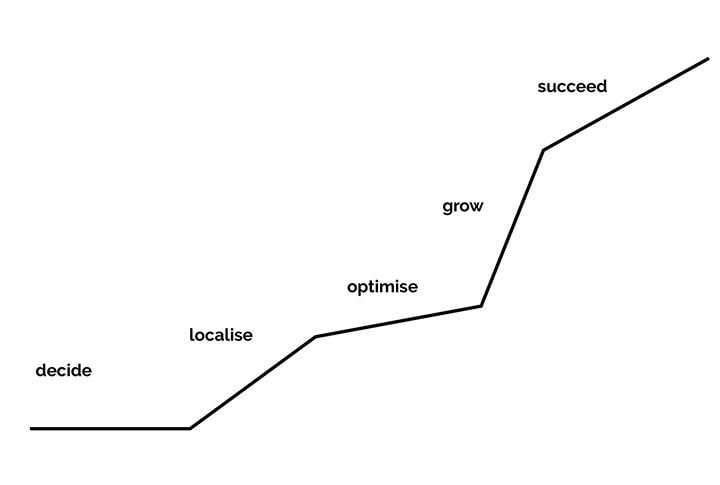 5 phases of successful international e-commerce
Once this decision has been made, you move on to the localisation phase.
This phase is all about making sure that your customers say yes to the following 3 questions when viewing your product in your webshop or at a marketplace:
1. Do I have enough information to make my decision (product information, price, shipping costs, delivery terms)?
2. Do I trust the webshop enough to place an order and go through with the payment?
3. What if I regret my purchase? Are the return process and return policy competitive - and am I confident that they will provide me a refund ?
If you need advice or just a quick chat to get our first take on a challenge, please don't hesitate to contact us!