COVID changed the game: Søstrene Grene discusses taking on 6 markets in 12 months
Written by Max Riis Christensen

If opening new markets is all about hypotheses and preparation, then part of that is being prepared to adapt when all your assumptions are dashed.

For Danish high street darling Søstrene Grene, purveyor of beloved goods for house and home, its international expansion looked totally different to the plan they had laid.
In the latest story in our Succeed Abroad series, chief digital officer Rasmus Skjøtt tells us the story of how the team wanted to be pragmatic and take it slow but ended up doing the complete opposite because of COVID.
"The plan was tossed aside and the new plan was to open as many markets as possible within 12 months," - Rasmus Skjøtt, Søstrene Grene Chief Digital Officer.
From slow roll-out to as many markets as possible in 1 year
So how did that happen? Rasmus tells us Søstrene Grene's go-to-market strategy was to go live in Denmark first, make a lot of mistakes and learn a lot.
The intention was to be live in Denmark for 6-12 months and then start looking at expanding. But then COVID hit just two weeks before opening their webshop in Denmark.
"The plan was tossed aside and we ended up doing the complete opposite," he says. "We opened Denmark in March, Germany in June, Netherlands in September, France in December, Sweden in January and Norway in March."
The company chose those six markets since they represent a majority of its total and they are also countries where they have brand recognition and strong partner structures.
Opening six markets in 12 months must be some kind of record and the journey wasn't without its hurdles.
"We had just closed all our stores in Germany, missing out on a larger three-digit million turnover on a monthly basis. So, we went live in Germany fast.
"That's where we made our first big mistake. We went live without PayPal. That was a huge setback. We had discussed payments, but I think we underestimated how much it mattered."
While the team at Søstrene Grene were working on better payment solutions and an agreement with PayPal for the German markets, customers were not happy.
"The customers don't know that we are working on it. And that's where we stumbled. We had many setbacks in Germany. And we made the same mistakes in the Netherlands.
France was a different story. They had the payment methods live there, but went live with the same distribution system it used in other markets.
"It seemed logical to us but we didn't understand the French customers' preferences."
Denmark and Sweden went more smoothly, he says. The issues here were more about returns in-store and the online-offline connection. For example: If you pay online via Klarna with a 30-day credit, you don't have to pay upfront, but then you go to a store and return the product and technically you have not paid for it yet.

Marketing & localisation across markets
Søstrene Grene has insourced marketing efforts a lot and has a media team located in Denmark that handles all marketing across all 15 markets as well as marketing for the many physical stores across all markets.
"The allocation of budgets and budget sizes is different because we know that building something up takes time. Our go-to-market strategy is different in each market. The media channels are the same, but the communication messages are a bit different. We need to educate people more if we want to gain their trust."
The expectations for new markets and creating brand awareness is high, but realistic with a three year scope.
"We fully understand that the new markets won't generate much in the first year. However, we expect them to perform well in year two and three. But we need to have the markets live now so that we can establish ourselves"
But online stores are not the full picture plan. More online stores will mean opening more physical stores in continuation.
"It''s a central part of our e-commerce expansion that goes hand in hand with our offline expansion. We plan to expand the UK quite a lot in the coming years. Right now we have 17 stores but it's a big country, so we still have a lot of work ahead of us in terms of building the right brand awareness."
If the UK expansion looks anything like other markets that Søstrene Grene has entered, they will expect to see organic growth - through opening their physical stores as well as in their online business.
"A store opens down on High Street, 200 meters from where you live, and the obvious thing to expect is that people living nearby will Google it."
Another marketing challenge ahead of Søstrene Grene is language and when to spend resources on language localisation efforts.
Optimising with local language is somewhere on the maturity curve further into the journey, he says. First, they see how the markets are doing and then language is part of the refinement.
"We want to see some more market maturity before we invest in a five person team. And we have to define what market maturity looks like before each market would deserve a custom treatment."

And next up for Søstrene Grene
"We have finally closed the worst gaps, but our online stores were still a ship taking in water. So we actually spent a year and a half on operational optimisations, payment solutions, changing our French distribution agreement, building other things making it more robust. It may sound boring, but it's crucial for us to be able to approach the next markets."
And that's where Søstrene Grene is today. They gained a lot of experience, some of it quite costly, but they now have enough learnings to open new markets and expand further.
"We have just launched the next bundle of e-commerce markets, which consists of mid-markets: Belgium, Austria and Ireland and lately UK. Next up is Switzerland and from there we might look into pure online markets."
Søstrene Grene is an established brand with physical stores across markets, but they are only now celebrating the 3-year anniversary of their first online store.
"I think we've come a long way, but we're still in our infancy compared to many of our online competitors. These months we have celebrated our third year anniversary in Denmark, Germany and The Netherlands - all other markets are less than three years old, so we still have a lot to learn."
Anyone building online stores understands the challenge of being a brand in a new market or building up trust and awareness. But there has also been a great advantage, as Rasmus Skjøtt explains.
"We had no legacy systems. We could basically start with a completely blank canvas, and discuss what would be the very best way of building this online platform. And that has been a huge advantage."
And that's a great note to wind up on. Thank you Rasmus for taking the time to share your learnings with our community! Check out the full collection here for more tips.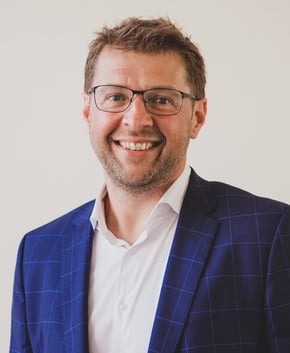 Max Riis Christensen
Max, the CEO at MakesYouLocal, specialises in cross-border e-commerce. His expertise encompasses building business cases, developing rollout strategies, and ensuring successful international launches. With a vast network and a track record with renowned companies, Max is instrumental in helping brands succeed abroad.