Expectations versus reality in international expansion
Written by Max Riis Christensen
BARONS is a Copenhagen-based men's fashion brand selling high-end timeless shirts for busy professionals online, with the mission to 'do simple better'.
Now live in Norway, Sweden and the Netherlands outside its home market, co-founder Joachim Latocha tells us that finding success abroad is, of course, anything but simple for brands today. The goal posts keep moving.
In the latest story in our Succeed Abroad series, he shares his learnings on market expansion tactics, localisation and technology across markets with our learning community.
"Many people go wrong by thinking it's about the setup rather than other things like distribution, brand equity, distributing marketing content across the board," - Joachim Latocha, BARONS Co-founder.
Expansion tactics: Great expectations
One of the biggest barriers for brands looking for success abroad is managing their own expectations, says Joachim.
He believes there is an intersection between competence, organisation and brand strength that needs to be locked before companies can have a realistic expectation of succeeding outside their home market.
It can be natural for ambitious brands to assume they can simply replicate the success they have had in their home market overnight and overlook the fact it may have taken 10 years, incremental steps and - in most cases - some good fortune to get there.
"What is it that makes you somehow have an expectation that within 24 months, you can reach almost the same level as that but without being able to see those externalities or those things that led us there?"
"There are many who underestimate this," says Joachim, including himself in the early days.
BARONS is now live in three international markets but he considers them to still be in a trial and error phase compared to its home market of Denmark and believes that many brands still misjudge the time it takes to find true success abroad.

Expansion tactics: The goal posts have moved
Part of that is that, along with growing maturity in the global e-commerce market, the challenges of finding success abroad have evolved.
Starting out he thought the most important steps would be taking all the best things they had done in their home market, building a good website and getting a native speaking person to oversee it. Now he sees these as the most basic prerequisites for success.
"Those are not at all the most important steps, they are just like having the pencil and paper with you," he says. "It allows you to play, it allows you to take the exam but it tells you nothing about whether you'll get a zero or full marks.
Same goes for the technical aspects. In the past, entering Germany for example, was about whether you ship with GLS or DHL, translations, having the right mail flows, technology and payment setup and so on.
"Those were important things in the past, but not nowadays. Of course, you need to bring your pencil when you have an exam, but it has nothing to do with success."
The growing sophistication of logistics means the technical side of things is no longer the biggest hurdle - something Joachim believes brands are still getting wrong about entering Sweden, for example.
"Many people go wrong by thinking it's about the setup rather than other things like distribution, brand equity, distributing marketing content across the board," he says.
"There's both sales distribution, which is tough when you're small and then there's marketing distribution, building interest and trust."
Put another way: today brands don't fail abroad because they had the wrong payments set up.

Localisation < brand resonance
It used to be the case that if you could figure out localisation, then you had come a long way.
It is still important but it's just not the decisive part of it, it's just the first step he says. The hard part is getting the attention of the customers you want to talk to.
And scaling a brand is tough. Joachim believes efforts to grow in international markets should not become a drain on the company and come at the expense of the home market - it's about doing it sustainably.
An example is getting into the line of thinking that you need to do something totally different for marketing in each region. For small teams, this gets complicated, fast. It's more important to figure out what elements of your brand resonate with consumers in a new market and then scale from there.
"We came to the conclusion that either you need very deep pockets to do it or you need to go back to the core of your brand, your visual DNA, your core narrative. That's where it becomes irrelevant whether you communicate in Danish or English.
"Not to say that you should only communicate in Danish or English, but the elements that somehow make you interesting to some customers, you can incorporate them into your DNA and your marketing."
Then, when you start getting some volume, you can start asking, where should we translate? Is there a website where it actually matters? You might see you need to spend more to adapt for German customers but accept that you (probably) don't have the capacity to create 100% separate marketing tracks in eight different countries because it requires resources.
"It's just not possible to manage it and that's why so many fail in their expectations," he says.
Expansion tactics: Splashy campaigns can cannibalise brand awareness

BARONS has run a big campaign with a brand ambassador and legendary ex. Barcelona and Real Madrid footballer, Michael Laudrup - awarded as the greatest athlete of all time in Denmark.
Joachim says that while this kind of strategy can be powerful it is important to have your brand fundamentals in place and they work best once your brand is established.
These kinds of campaigns should amplify your brand, not eclipse it. You need to be able to capture the value.
For some companies looking to make a big impact in international markets, working with local celebrities on big campaigns looks like a promising route. However, Joachim believes that smaller brands with poor local exposure on the ground are likely to get eclipsed.
"It shouldn't be driven by the idea that you can only succeed in a market if you have a huge name," he says.
It's different for brands like Louis Vuitton with huge distribution networks. It's almost irrelevant whether they use a campaign with Zendaya or Julia Roberts, he says. It's about maintaining that constant high pressure. Everything they do naturally has high brand value but they have 10,000 sales channels where you're exposed all the time. They can afford to do it.
"It's a huge mistake to think that you can do the same as someone who has completely different prerequisites for succeeding with it. You need to have a firm grip on your brand's identity because you don't want it to become a private label for a big star," he says.
Let's say you find a huge celebrity in Sweden, for example like Zlatan. No one has heard of you, but everyone has heard of Zlatan. So you just become 'his' underwear or whatever it is. People don't see you, they just see Zlatan.
Can you translate that into selling shirts or have you just obtained some white noise that doesn't have a commercial value that is big enough? Can you stand on your own without having Zlatan?
It's about figuring out what your core is, says Joachim. Then you can practise distributing the marketing across channels and platforms and figure out where to invest your energy so that you don't spread yourself too thin in many different countries.
The hard part is figuring out how you communicate with customers.
How do you go from that to building trust? It typically requires having many high-quality touchpoints with customers, which is difficult when you're new in the market. You can't corner the same person. It also needs to span across media channels, so you're validated beyond just 10 Facebook ads, says Joachim.
"Everything from creating awareness to generating interest to converting to the first purchase is damn difficult. It's clearly the biggest barrier. How many products have you bought from a brand you've never heard of?"
You can't scale your brand without locking fundamentals first
When it comes to finding success abroad, there are many paths to Rome. While every company's journey looks different, it's clear that the challenges for everyone are only getting more complex as the global e-commerce market continues to swell.
Thank you Joachim for sharing some of your key learnings from Baron's story with us and welcome to the community!
This is the latest story in our series where 50+ top e-commerce professionals share their learnings on market expansion tactics, localisation and technology across markets with our learning community. Check out the full collection here for more tips.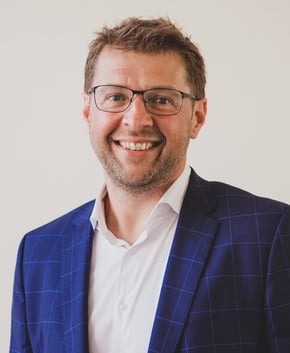 Max Riis Christensen
Max, the CEO at MakesYouLocal, specialises in cross-border e-commerce. His expertise encompasses building business cases, developing rollout strategies, and ensuring successful international launches. With a vast network and a track record with renowned companies, Max is instrumental in helping brands succeed abroad.