When companies start selling abroad we sometimes hear them say: "Until we have significant volume and make a profit, customer service will be handled by our existing team in English '' and some of them even add "and we will only offer e-mail support".
In my opinion, this is the wrong approach.
First of all, winning customers in a new country requires that you offer something better or equal to what they are accustomed to. Having limited customer service makes you less transparent and indicates to your customers that complaints, returns and help in general will be more complicated. This is a given red flag for visitors and a lot of them will leave their cart full of products and go to a competitor's webshop.
The second problem with this approach is that you will miss out on important knowledge that can improve your conversion rate and the customer journey. A native customer service team connects to customers, understands their concerns as well as their problems, and in terms gain information that is critical in order for you to be able to improve the shopping experience and make it a profitable venture.
Having access to native ressources will give you a much better understanding of your new market, providing you with the knowledge needed to optimise the webshop as well as the post sales processes and of course allowing you to localise product texts and content when needed.
If you decide to hire people in house, you need at least two employees. You need to be able to cover for holidays, sick leave and all the other situations where a person cannot be on the phone during a workday. The solution can therefore end up being expensive and it can also be very difficult to find native employees that are able to cover the broad set of skills from customer service, translation to online marketing and community management.
Outsourcing customer service is actually a perfect fit, when you launch in a new country!
Leaving the responsibility of finding the right people and covering all the skills needed can actually be outsourced. We at MakesYouLocal offer a solution tailored to brands and retailers selling online abroad.
The goal with our solution is to give our clients access to a native team that covers all the skills needed in a new country, by allowing you to pay as you go. We cover both marketing, localisation and translation skills. Everyone in our native teams also works with customer service, which is important in order to be able to work for your brand and optimise your webshop.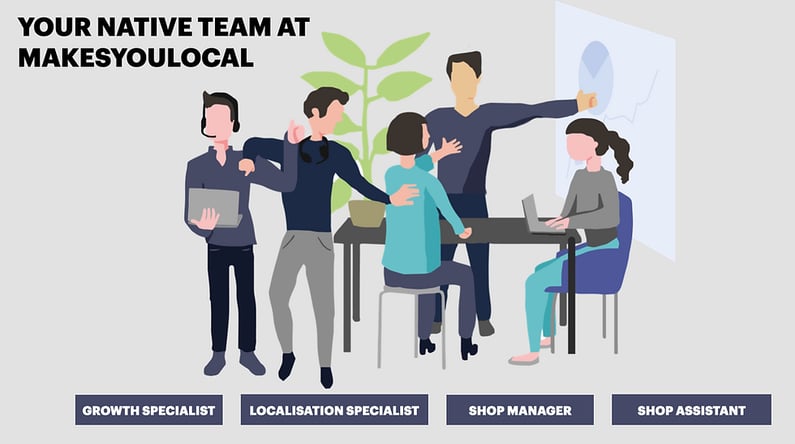 Some clients pay less than 750€ per month, and are still able to offer local customer service from 9.00 to 21.00 across phone, mail, chat and Facebook Messenger. Some pay more - a lot more - however this is because they have a lot of customers buying from their webshop!
Contact us to learn more here or maybe try our calculator to get an idea of the outsourcing cost for your webshop!