Just returned from E-commerce Summit 2019, where I saw a lot of interesting presentations - I have been going back and forth on the role of the marketplace, for brands selling internationally.

Is it the easy and fast way to sell internationally, or maybe even global, or is it just an excuse for not doing the hard work of running your business abroad?
In the home market brands and retailers has a complex setup combining a webshop with marketplaces and on top of that a network of traffic generating channels such as Facebook, Instagram, price comparison sites, many years of SEO work and of course all the tools provided by Google Ads.
This is needed to attract a broad group of potential customers, all in different stages of the buying process and all buying for different reasons.
Can this be solved by a feed to Channel Advisor or Lengow, when you go abroad?
Probably not. I am sure that some of the customers will be satisfied, in particular, those in the middle of the funnel, just in the need of an efficient checkout and delivery.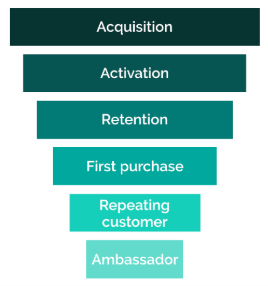 But how can a marketplace solve the challenges in the top of the funnel, where the emotions play a substantial role?
And do the marketplaces care about repeat customers for your brand, or do they prioritize the advertisers paying most when the customer return to marketplace?
To solve the top funnel problem you need social media, influencers, and other paid media to attract consumers not yet knowing what to buy or which brand to buy.
You also need a place for them to checkout, unless you prefer to send them to Amazon and pay additional commission, on top of your spend on social media. This means you need a localised webshop.
The localised webshop is also a great platform to turn new customers into repeat customers and repeat customers into ambassadors. It is the destination for your re-marketing, the newsletters, and communication around previous orders. All great opportunities to build relationships.
The solution for international success
To succeed abroad it is important to look at the elements that made you successful in your home market. Since competition is intense everywhere, consider carefully which of the elements you don't need abroad, to keep your USP's relevant.
Also remember that even in the US, 80% of Amazon sellers also sell on other channels and that might also be the right solution for you.