If you have had some success with e-commerce in your local market, a natural next step is to consider expanding your business internationally. The potential in Scandinavia and the rest of Europe is huge, but with the millions of new customers comes a set of new challenges.
In this blog post, we discuss five of the most important things that you should consider when planning your expansion into new markets.
1. Every country is unique – take time to understand buying habits and customer expectations
Just as every country has its traditions and cultural differences, customers have different expectations of the local online shops they purchase from. It is easy to assume that many of the things we are used to as customers are similar for customers in other countries. And this is a dangerous assumption to make, as reality is often very different – customers have widely differing expectations regarding things such as product prices, delivery time, customer service and payment options.
In Denmark, for instance, most customers prefer to pay by credit card when shopping online, while bank transfer and invoices are the most widely used form of payment in Sweden and Germany, respectively.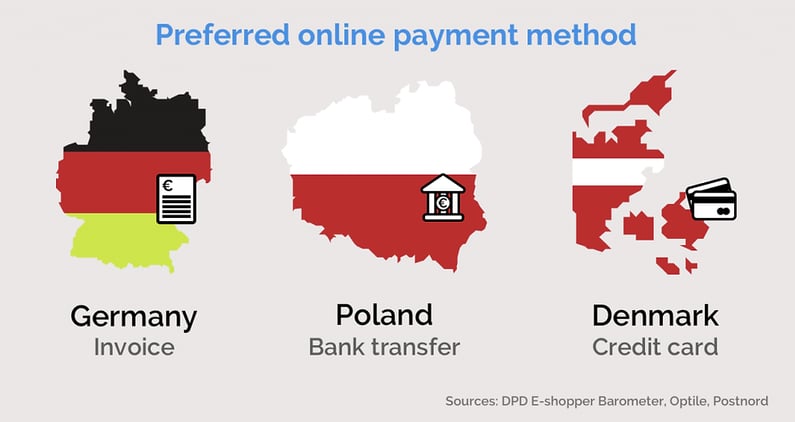 Preferred online payment method
Geographical differences can also influence customers' expectations of the online shops they buy from. Countries like Norway and Sweden are geographically large and as a result of this customers from these countries are used to longer delivery times than we are in Denmark, where delivery shouldn't take more than a day or two.
Familiarise yourself with the country's e-commerce culture to better understand what customers will expect from you and your online shop.
2. Find your unique position in the market
As a new player in the market, you'll often find existing local shops to compete with for the market share.
Because of this, it is important that you position yourself in the market, making clear to customers how you differ from the existing players and why they should buy from you instead of somewhere else.
At this point you can benefit from conducting a market scan to gain insight into the price level of your competitors, product assortment, service level and their terms and conditions in order to find an area where you can gain a competitive advantage.
If you are not able to offer customers a competitive advantage over your competitors, you will have a hard time convincing customers to choose you over an existing online shop that they already know and trust.
3. Trustworthiness is the key to success
A crucial factor in whether a customer's visit to your online shop results in a purchase is that your shop comes across as trustworthy.
There are several things you should do as an online shop to increase your trustworthiness and give customers a good first impression. First of all, it is important that translation of text content is correct and professionally done – Google Translate is therefore rarely a good solution. Furthermore, you should give customers several ways to get in touch with you if they need help – phone, mail and preferably live chat.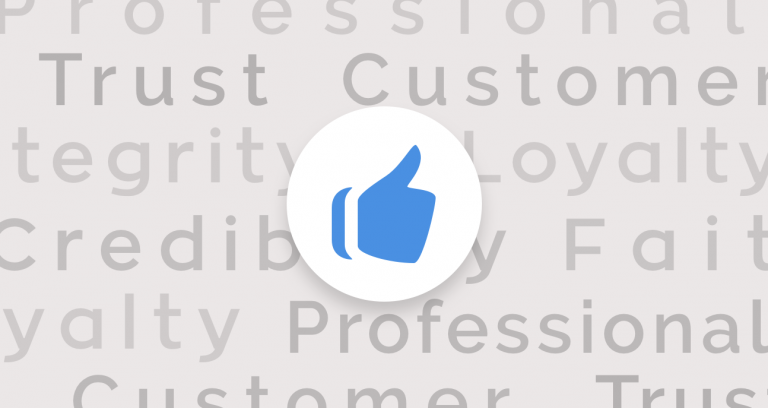 In some countries, a trust mark is necessary to appear trustworthy, while in others, customers expect free returns or customer service via chat. An understanding of customer expectations is therefore important in order for you to be able to deliver a professional and trustworthy consumer experience.
4. Success takes time
Before you start a cross-border project with the purpose of increasing company growth, it is important to set realistic expectations and a timeline with milestones. Success rarely happens overnight – it takes time to build up customer awareness and interest in your brand or online shop.
Your chances of being successful in a new country increase if you put time and effort into your strategy, get to know the market and localise your online shop to said market. Do these things and you will be well on your way to achieving success. Just be aware that establishing yourself in a new market takes time, so set your goals with that in mind and budget accordingly.
5. Set goals and follow development closely
Since it can take time to build a profitable business in a new market, it is crucial that you follow the results closely while continually optimising your strategy accordingly. If you know what your fixed and variable costs are, it is possible to calculate how much you need to sell in order to be profitable. We use an EPO calculation (earnings per order) which involves all the variable costs, including stock-handling, shipping costs, customer service and return handling. Your earnings after these costs are what we call EPO and that amount is what you can spend on fixed costs.
To succeed in international e-commerce, there are plenty of things to consider. With lots of years of experience with online sales in markets all over Europe, we have the insight into and understanding of the factors which determine whether your online shop has the potential to succeed internationally. Contact us and let's discuss how we can help you succeed abroad.