5 Factors to Consider Before Selling Overseas
Written by Søren Kjær Nielsen
If you have achieved success in local e-commerce, the next logical step is to contemplate expanding your business internationally. The potential benefits in Scandinavia and the rest of Europe are immense, but along with new customers come new challenges.
In this blog post, we will discuss five crucial aspects to consider when planning your expansion into foreign markets.
Embrace Uniqueness: Dedicate Time to Understand Buying Habits and Customer Expectations in Each Country
Just as every country has its own traditions and cultural differences, customers have varied expectations when it comes to online shopping. It is perilous to assume that customer preferences in other countries are similar to those in your local market. Factors such as product prices, delivery time, customer service, and payment options can differ significantly.
For example, in Denmark, most customers prefer paying by credit card online, while bank transfers and invoices are widely used in Sweden and Germany, respectively. Moreover, geographical variations can impact delivery expectations. Customers in countries like Norway and Sweden, due to their larger size, are accustomed to longer delivery times compared to customers in smaller countries like Denmark, where deliveries are expected to be completed within a day or two.
To better understand what customers will expect from your online shop, familiarise yourself with the local e-commerce culture in each country.
Find your unique position in the market
As a newcomer, you will often encounter competition from existing local shops vying for market share. Hence, it is crucial to position yourself in a way that clearly differentiates you from the competition and explains why customers should choose your online shop over others.
Familiarise yourself with your competitors' pricing, product range, service level, and terms and conditions. This will help you identify areas where you can gain a competitive advantage.
If you are unable to offer customers a compelling reason to choose you over existing online shops they already trust, it will be challenging to convince them to switch.
Trustworthiness is the Key to Success
The trustworthiness of your website plays a crucial role in converting visitors into customers. To increase trustworthiness and make a good first impression, several measures can be taken. Firstly, ensure that your text content is accurately translated and professionally done, as relying on machine translations like Google Translate is rarely effective. Additionally, provide multiple channels for customer support, such as phone, email, social media, and live chat.
In some countries, displaying a trust mark is essential for instilling trust, while others may expect free returns or customer service via chat. Understanding these customer expectations is vital for delivering a professional and trustworthy consumer experience.
Patience is Key
Before embarking on a cross-border project to enhance company growth, it is important to set realistic expectations and establish a timeline with milestones. Success seldom occurs overnight, as building customer awareness and interest in your brand or online shop takes time.
You are more likely to succeed in a new country if you have a clear strategy, conduct thorough market research, and tailor your online shop to the local market. Keep in mind that establishing yourself in a new market requires time, so set your goals accordingly and allocate your budget accordingly.
Set Goals and Monitor Progress
Since building a profitable business in a new market can be a time-consuming process, closely monitor your results and continually optimize your strategy accordingly. By understanding your fixed and variable costs, you can calculate the required sales volume for profitability.
Consider utilizing the EPO calculation (earnings per order), which factors in variable costs such as stock handling, shipping costs, customer service, and return handling. The resulting earnings after these costs are what we refer to as EPO, which can be allocated towards fixed costs.
To succeed in international e-commerce, numerous factors must be considered. With extensive experience in online sales across Europe, we have the insight into and understanding of the factors that determine whether your webshop has the potential to succeed internationally.
Contact us and let's discuss how we can help you succeed abroad.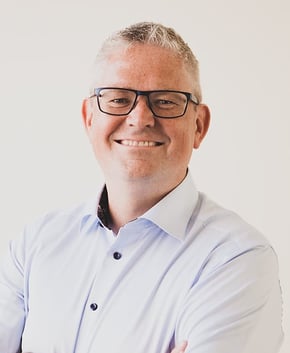 Søren Kjær Nielsen
Søren, an e-commerce specialist at MakesYouLocal, excels in cross-border online marketing. With extensive experience and a focus on ROI-based decisions, Søren's expertise has helped plenty of companies succeed in international e-commerce over the years.