Billigt Arbejdstøj talks power of names

Written by Max Riis Christensen


From flame retardant underwear and welding gloves to workwear for nurses and chefs and gear for hunting expeditions, Billigt Arbejdstøj is on a mission to become the number-one online seller of work, leisure and protective wear.
Started in 2010 by Tommy Søndergård to sell high quality gear to suit every budget, the business has today grown into 110 employees, all based at the company's headquarters on the windy west coast of Jutland in Denmark.
The company operates a global, English-language store that serves the whole of Europe and has also spent time launching local webshops in six markets including Sweden, Norway and Germany.
In the latest story in our Succeed Abroad series, Tommy shares his learnings on market expansion tactics, the power of names and how the team has shaped its growth strategy over the past 12 years.
"We have been quite satisfied with not taking a broad approach and focusing on the countries we really believe in," - Tommy Søndergård, Billigt Arbejdstøj Founder.

Building a localisation strategy
The first new market Billigt Arbejdstøj entered was Sweden in 2016 and looking back on its expansion over the past years, Tommy says he is happy with their decision to invest in a few markets at a time rather than going for a scattergun approach.
"Going local in the countries, with things like language for example - we haven't regretted that," he says. "We hear about companies that have been in 25 countries and then they have to start cutting countries that don't work."
"We have been quite satisfied with not taking a broad approach and focusing on the countries we really believe in."

That doesn't mean expansion hasn't come without challenges. Billigt Arbejdstøj opened both Norway and then later Germany back in 2020. Tommy says that as expected, the team found pricing to be a challenge in both countries.
He says that in Germany, the team was well aware that there were challenges in competing with local rivals selling similar goods because some of the products can be bought cheaper there, even though they are Danish-made.
In Germany, he says, you need to win shoppers' trust first before you can really make an impact.
"I attended a lecture once where someone said that if a German goes to a Danish restaurant, they would be willing to pay 1600 kr. for a bottle of wine if they couldn't buy it back home."
"But if they can buy the same wine for 200 kr. in Germany, they wouldn't eat anything at that restaurant because they know they're being ripped off. It was a bottle of wine, and they didn't even know how much it cost in Germany, so they just forgot about the price and enjoyed it."
Localisation: What's in a name?
In Norway, meanwhile, Tommy says the challenge around pricing was mostly due to the company being called Billigt Arbejdstøj (Cheap Workwear).
"Norway is one of those countries where "cheap" is not necessarily the word you want to associate with things you buy," says Tommy. "Whereas Danes can be a bit more business-minded and think, 'that's just right for me'."
In the case where they are selling something that doesn't have an 'extraordinarily' good price but a fair price, the strategy in Norway is simply to sell it as residual stock and he says this is working well. Residual stock accounts for 40% of revenue there, he says.
"We have sometimes been asked why we are called "Cheap Workwear" because it's cheaper elsewhere, but we are not called "Cheapest Workwear," we are called "Cheap Workwear"."
Still, the team is debating whether to use a different name outside its home market, focusing on the purpose of the gear it sells rather than price to lower barriers to purchase.
Today, exports account for one-third of revenues with Sweden driving the most powerful revenue growth overseas. Like many e-commerce companies right now, however, the team is focusing on optimising its core home market.
Technology: ChatGPT can't handle everything yet
Speaking of optimisation, we love to talk to ambitious companies about the technology they use to make their operations run more smoothly. For any company managing large volumes of inventory, simplifying processes can become something of an obsession.

For Billigt Arbejdstøj warehouse optimisation is, for example, very important but what about the technology it uses internally?
Tommy says the company is not using chatbots and AI products on the customer side yet but internally they are beginning to experiment with them. But they are taking the hype around new AI products with a pinch of salt.
"It's something we're looking into but we're cautious about relying on them entirely," he says. "If Google can tell that it's a machine generating everything, it affects our ranking and such."
He does not expect the human element to be eliminated from the translation process in the near future.
"The alternative to writing a translation yourself is to have it reviewed by someone who understands it, which can be easier than saying something is wrong and approving it," he says. "It's a new world in that regard."
And that feels like a good place to leave it. Thank you Tommy for sharing some of your key learnings from the Billigt Arbejdstøj story with our learning community!
This is the latest story in our series where 50+ top e-commerce professionals share their learnings on market expansion tactics, localisation and technology across markets with our learning community. Check out the full collection here for more tips.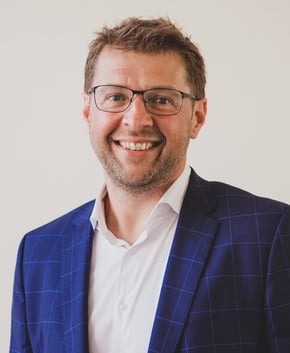 Max Riis Christensen
Max, the CEO at MakesYouLocal, specialises in cross-border e-commerce. His expertise encompasses building business cases, developing rollout strategies, and ensuring successful international launches. With a vast network and a track record with renowned companies, Max is instrumental in helping brands succeed abroad.