Remarketing (or retargeting) target ads to consumers who have already shown an interest in your brand by visiting your website. The aim is to get visitors to complete a purchase and to create customer loyalty.
The most important marketing principle is to identify the campaign's target group. This has become much easier online than via traditional channels. You no longer need to start from scratch every time you run an online campaign, as you can re-use results from previous campaigns. And you can 'pursue' the impact on customers/leads that you initiated in previous campaigns.
How does remarketing develop?
Remarketing can be many things, and it is still evolving. There are continually new ways to segment your visitors and target your ads to individual users. In the Google universe is has in recent months become possible to create remarketing at product level via Google Merchant Center in AdWords.
This way customers will see banners for exactly the products they have already looked at in the web shop. At the same time remarketing via Google Analytics has been made much more advanced and specific.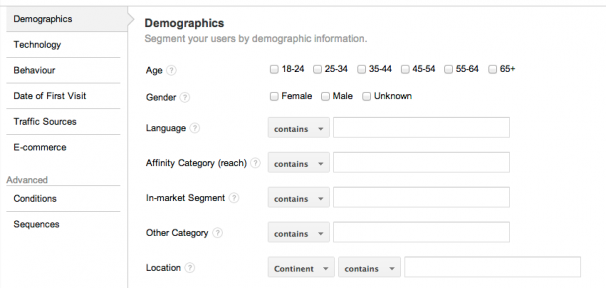 The segmentation of your remarketing can now be razor sharp in Google Analytics.
Everybody is talking about customer customized marketing as being the future and that mass communication is dead. But is there a limit to how far you can go without harassing customers?
How to use remarketing
Some remarketing methods are not that transparent for the customer, while others are obvious.
The customer will not necessarily figure out that an airline advertise with the message "5000 cheap tickets across Europe" is caused by his previously visit on the site. In contrast, many will discover that their online behavior is monitored if they are exposed to an advertise saying "Travel to London on the 15th May at 7.30 am for only €79" which is curiously enough similar to the search they made the day before.
Both methods are used more and more in advertising – and we are all exposed to them on a daily basis.
Our approach
We believe that remarketing is a great marketing tool that offers great benefits for both businesses and customers. Companies can reach their target cheaper and customers can avoid being exposed to ads for products of which they have no interest. But we do not necessarily think that the 100% personalized marketing is always the best way to close orders nor create loyalty – it should be weighed against the product, brand and customer target group. As a Google Employee said at a presentation for remarketing: 'Don´t be creepy!' – And we could not agree more.
Meet Søren Kjær Nielsen at +45 2619 8088.