A year ago Google launched its trust mark Google Trusted Store in the US. Recently they opened up for shops in Germany, France, UK and Australia and if they follow the pattern of the launch of for example Product Listing Ads, we will soon see the trust mark in the Nordic countries as well.

Will Google trusted store be our new trust mark?
Google share a lot of statistics showing increased sales in US web shops displaying the Trusted Store logo and no doubt it will have the same effect in the Nordic countries. Many trust marks can show these statistics, but I think the following five bullets will give Google a competitive advantage against local players as e-mærket in Denmark, Trygg ehandel in Norway and Sweden and Kauppa.fi in Finland.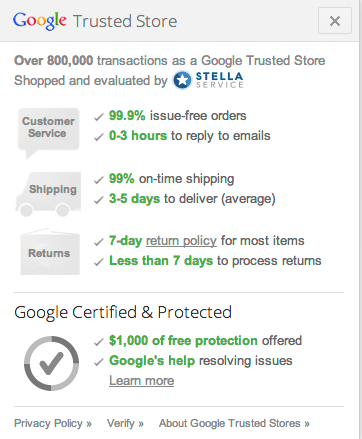 Google uses an independent company doing mystery shopping in order to measure customer experience in a fair and objective way. Competitors like Trustpilot are based on user experiences and they attract a higher share of negative reviews than is fair. The web shops will definitely prefer a more objective approach.

You will be able to use the rating (hopefully 5 stars) in your Product Listing Ads and normal Google text ads. This will make your ads stick out and increase conversion.

Google is international and a web shop using Google Trusted Store will have a strong and well known trust mark in all markets. Due to this, web shops don't have to apply and pay for different trust marks for each country.

Web shops awarded with the Google Trusted Store trust mark also get the benefit of Google helping to solve conflicts with customers and on top of that offer to cover the customers loss (up to 1000$) if a Google trusted store web shop don't deliver the purchased product.

All web shops (in the western world – more or less) are already customers at Google and this gives Google a lot of ways to present the trust mark and bundle the service into other Google products.
These strong points will challenge the local trust marks and unless they improve their offer and/or start aligning their services and create a Nordic trust mark, it will be a challenging competitor in the future.
Google prepared a nice little video about the trust mark, take a look here: http://youtu.be/FKXPeIeKYd8
Call Max Riis Christensen direct +45 3017 3950.