Google is rolling out their own trust mark right now. Today I saw it at the German shop www.pearl.de. It is definitely worth looking into. In the picture below you can see the "Google certified shop" logo. The small box at the bottom is visible all the time, the bigger box shows up when you click.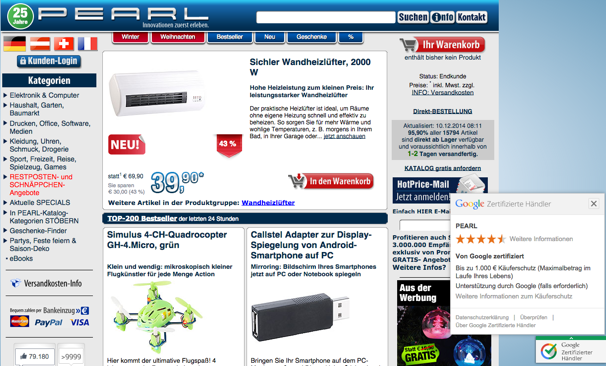 Google certified shops offer two (three) important things for online shoppers.
1. They monitor the delivery quality and customer service quality of the web shops, and as a customer you know that the shop usually delivers good quality. This of course means a lot for customers shopping for the first time in a new web shop. These two elements are not yet monitored by other trust marks.
2. They protect customers from losses (in this case up to 1000€) they might experience from doing business with the web shop. This is also offered by other trust marks (not in the Nordic countries though).
And the last thing they offer is of course the trust that Google bring being everybody's search engine, mail client, translation service etc…
What is required to get the badge?
This is truly a strong concept seen from a customer perspective. Seen from the web shops side it is a little more complicated. It will of course increase the trust in a web shop, but to have the Google certified shop logo you really have to open your doors to Google and let them follow your performance closely.
Doing that you will be able to offer the insurance for your customers (1000€ loss protection) as well as showing on the web shop that Google will vouch for you.
Here you can see the performance standards you have to meet: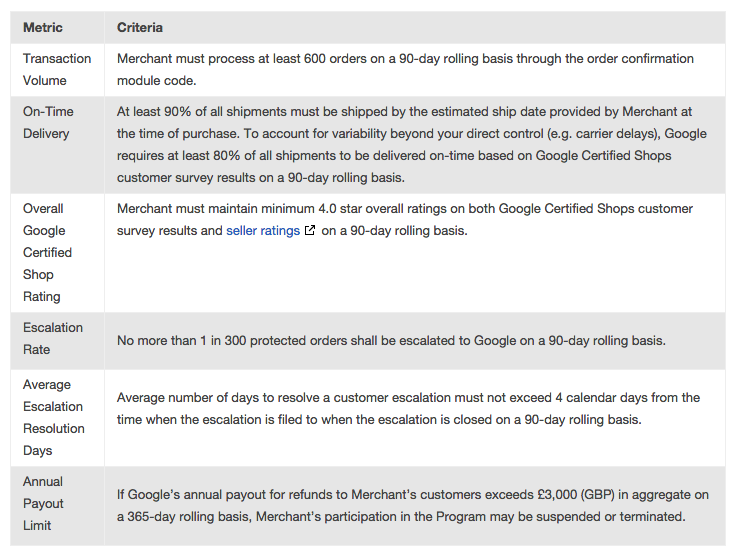 This is not much different from what happens on Marketplaces and it all leads in the same direction. If you perform well and deliver high quality, you will do well. If not, you will see a direct consequence in terms of declining sales.
E-commerce is transparent.