To launch an international web shop takes both local experience and e-commerce knowledge. It can be difficult, but it can be done – and it is done everyday by many web shops.
We have learned that the really tricky part, is to advance from a newly launched web shop to having a market share and bring revenue and bottom line value into the company.
To help our customers to be successful, we use a 5 phase model, taking them from the initial discussion and planning to a successful and profitable foreign web shop.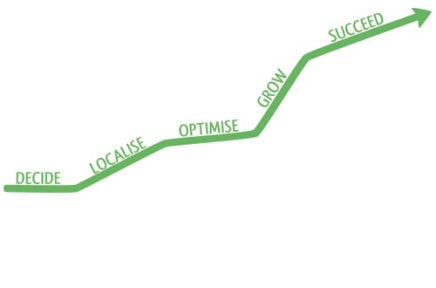 The 5 phases to be aware of
Being aware of the 5 phases and the different skills and knowledge needed to handle them, is crucial for achieving international success.
Decide
We have learned that the good old Franklin Covey advice is still relevant: "Begin with the end in mind". In this phase it is important to decide on the right country, matching your products, ambitions and budgets. To do that you have to prepare a business case. It can be simple or advanced, but you need to figure out the necessary investment further down the road, to take a solid decision.
Localise
You need to localise the shop in order to meet the expectations of the new customers. This is about trust and trust is about payments, delivery, return procedures and the overall impression of the shop. What needs to be done differs from country to country and from industry to industry depending on culture, competition and again your ambitions.
Optimise
No matter how thorough the localisation phase is done, we recommend taking some time to verify that everything work as expected. The key to profitability is a strong conversion rate. We prefer to benchmark the conversion rate with the home market's, and the goal should be to obtain the same conversion rate abroad.
Grow
We have seen great projects die in a slow and painful way, because the projects loose focus and importance within the organisation. We help our customers through the growth phase, and to make sure that the revenue the international shop brings is important, and that the profit it generates can pay bills.
Succeed
This is were we focus on profit. How we can optimise processes, marketing, logistics and customer service to increase the profit we can bring home or invest in further growth or the next country on our list.
Please share experience, input and ideas!